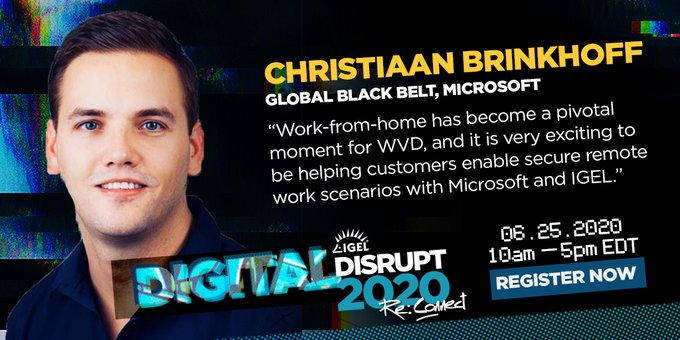 DIGITAL DISRUPT CLOUD WORKSPACES FORUM
DIGITAL DISRUPT CLOUD WORKSPACES FORUM
---
Event Start Date:
June 25, 2020
Event End Date:
June 25, 2020
Event Venue:
Virtual

Register here: https://disrupteuc.vfairs.com/?es_p=11876155 
Brand new thought leadership
Devoted to reconnecting with end user computing professionals like you, Digital DISRUPT brings together over 700 thought-leaders, community experts and the world's leading vendors and innovators in EUC and cloud workspaces.
Same warm welcome
As everyone in our industry moves towards experiencing online digital events, you can expect the same warm welcome from everyone here at IGEL as you would at our legendary in-person DISRUPT forums. There will be plenty of opportunities to catch up with friends, colleagues old and new, as well as the entire IGEL team.
Insight, fun and community spirit
Be there to witness ground-breakingDigital DISRUPT keynotes and insightful, in-depth and interactive breakout sessions. And of course all of the familiar fun you'd expect – raffles, trivia, passport games and more. There will be happy hours to join in with, too. Expect plenty of fun and the chance to raise your profile (as well as a glass) while revitalizing everyone's EUCand cloud workspaces community spirit.